Overview
Ewam International Nyingma School of Tibetan Buddhism is a relatively new religious, charitable, non-profit organization. It was founded in 1999 in the Jocko Valley of Arlee, Montana by Tulku Sang-ngag Rinpoche. Since then, Ewam has expanded across the United States and southeastern Asia. Centers currently exist in New Mexico, California, Colorado, India, Taiwan, and Hong Kong. The word "Ewam" was made from two Sanskrit syllables for wisdom and compassionate methods. The union of the two symbolizes the goal of all Buddhist practices. Ewam's mission is to spread and cultivate spiritual awareness in the West through philosophical and psychological discussion, as well as medicine. Centers provide retreats throughout the year, some paid and others free of charge, often lasting upwards of six weeks.
Creating Ewam
Tulku Sang-ngag Rinpoche, the founder and spiritual director of Ewam International, was born into the Namchak (or "sky iron") family, one of the oldest in Tibet, in the Kham region of Tibet in 1952. He was recognized early in his life by the rime lama Jamyang Khyentse Chökyi Lodrö (1893-1959), as well as by the former Zigar Kongtrul Rinpoche, to be the reincarnation of the Gochen Tulku. His family has included the third and fourth incarnations of the great tertön Tsasum Lingpa. However, he himself insisted that he was the sixth Gochen Tulku. Legend states that at the age of three, the Rinpoche left a deep footprint in a solid rock as if it were clay. The footprint is still visible today near his birth place.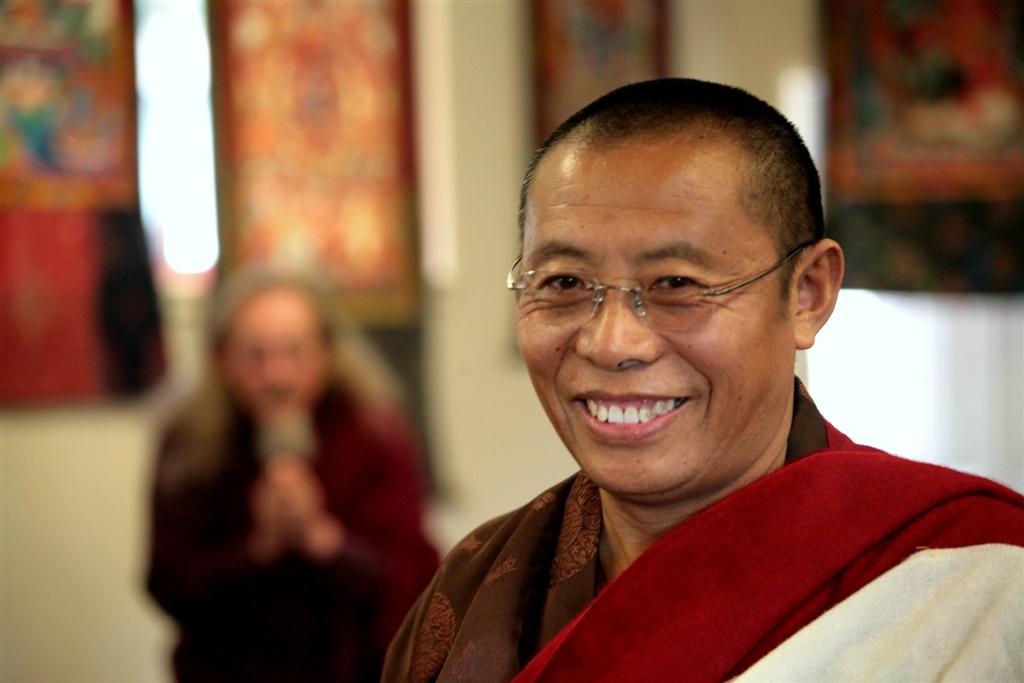 In the 1960s, Sang-ngag Rinpoche was forced to practice and teach Buddhism in secret because of the Chinese Cultural Revolution. Due to pressure from the Chinese military, the Rinpoche attempted to escape from Tibet to India with his masters but was captured and brought back. Eventually, he was imprisoned for ten years with other Nyingma masters. During this time, they taught him phowa (transference of consciousness after death) and the mahamudra meditation technique negyu rigsum. Tulku Orgyen Chemchok had him undergo a one-hundred-day course in mental training, including reciting guru yoga practices. He recounts that the kindness of his masters helped him feel compassion instead of anger towards the Chinese. After he was released from prison, the Rinpoche traveled across India, Nepal, and Tibet to restore Buddhism and build numerous stupas and retreat centers. Only recently did he decide to move his practices to America. Today he resides in Santa Fe, NM outside the retreat and practice center, Pema Khandro Ling.
Garden of One Thousand Buddhas
Ewam Sang-ngag Ling, located in Arlee, MT, is also the home of the Garden of One Thousand Buddhas. The purpose of the Garden is to promote peaceful positivity in contrast to growing negativity in the world around us today. It has been called the Bodhgaya of the West. Dedicated as an International Peace Center, the Garden allows an inclusive space for people of all faiths to "generate profound merit, to reduce global negativities, and to bring about lasting peace." The Garden also hosts an annual International Peace Festival since 2005. Thousands of people gather to enjoy togetherness in song, dance, stories, and prayers for peace.
The Garden, still under construction, is made up of a large circular path with eight paths leading to the center. There, a large statue of Yum Chenmo, the "manifestation of perfect wisdom," sits. An aerial view shows the entire garden in the shape of the Wheel of Dharma pointing north. Lining the outer path are one thousand stupas, each with an image of the deity Tara. Along the eight inner paths, a further one thousand molded statues of the Buddha will be placed. As of the time this paper is written, the website says that approximately half of the statues have been hand-cast. They will all be placed at once when they are finished.
Ewam Buddhist Institute
As mentioned above, Ewam International centers follow a modified Nyingma School model, focusing on Tibetan traditions and customs. Beginners at Ewam Sang-ngag Ling can attend a two-week "Introduction to Meditation" series, followed by a six-week "Meditation Intensive" series at the center in Missoula, MT. These series are free of charge to encourage all to join. The focus of the series is on calm abiding and clear insight meditation to discover one's own innate intelligence and wakefulness. In short, the goal is to find one's Buddha nature. The goal for the laypeople who attend these classes is to go through daily life with more confidence and happiness.
Other trainings include a seven-week program that teaches the concepts of impermanence, karma, suffering and compassion, the teacher, meditation, negativity, and wisdom, using Jigme Lingpa's Steps to the Path of Great Perfection. This program delves even further into more complex Buddhist teachings with a heavier focus on attaining enlightenment as laypeople. At the end, students are given an opportunity to make refuge vows. More advanced classes focus on further understanding Buddha nature and enlightenment through Arya Maitreya's Mahayana-Uttaratantra-Shastra. This text is often considered the bridge between sutra and tantra. The Ewam International website briefly defines Buddha nature as the inherent purity and perfection of mind, untouched by changing mental states. Laypeople are also encouraged to take language classes learning Tibetan script and grammar to experience a wider range of Buddhist texts.
The Garden of One Thousand Buddhas is also the host of the Ewam Buddhist Institute, a small college that teaches theory and practice of the Nyingma School. New students will go through a five-year summer shedra program that covers the entire history of the Buddhist path. The next opportunity to join will be the summer of 2021. After this beginning program, students go through a two-year program on Vajrayana and all six classes of tantra. The Institute prides themselves in being one of the only American schools to teach tantric Buddhism so thoroughly. Students are required to complete a Nyingma ngondro and interview with Khen Rinpoche, Sang-ngag's younger brother, spiritual heir, and Abbot of the Garden of One Thousand Buddhas. More information about the Institute can be found at http://ewamshedra.org/about/.
Diversity and Global Impressions
The attendance of laypeople in the majority of American Ewam centers are ethnically representative of the areas they are located in. In the case of Sang-ngag Ling, it is approximately half white and half Native American (Confederated Salish and Kootenai Tribes). Some disagreement exists over the ability for non-tribe members to purchase property on reservation grounds. This in turn leads to some negative feelings from some tribe members. However, an overall feeling of positivity and companionship between the two different ethnicities prevails, as each have similar traditions and cultures. For example, when tribal elders came to the Garden of One Thousand Buddhas to bless it out of respect, they found that both groups used juniper and sage as incense. The Tibetan highlands and mountains are very similar to those of western Montana, and both groups highly venerate the land in which they live. The annual Peace Festival also helps to alleviate negativity by encouraging cultural and religious barriers to be broken in favor of peaceful gathering.
Ewam International has a very positive relationship with other schools of Buddhism around the world. Buddhist centers in Japan, Taiwan, and China have donated to the completion of the Garden of One Thousand Buddhas. While Ewam teaches Vajrayana, they do not publicly denounce other schools that teach other paths. The annual Peace Festival invites Buddhists from around the world to join in collective prayer. The general sentiment from other schools is positive towards the Garden and its goals.